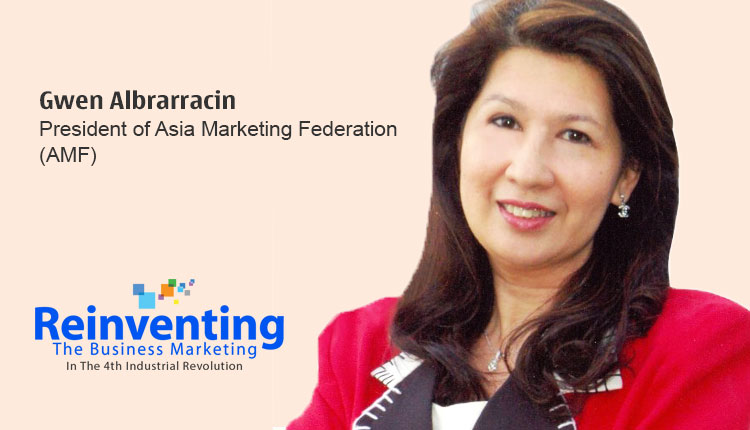 The Message from President of Asia Marketing Federation (AMF) about Reinventing Business Marketing 4.0
It is a great pleasure to be here with you all this morning. On behalf of the ASIA MARKETING FEDERATION I extend my warmest greetings and congratulations to the Vietnam Marketing Association headed by President Tran Hoang as well as your partner in this endeavor, the University of Economics Ho Chi Minh City for successfully organizing this conference.
I am representing the Asia Marketing Federation – a 16 member country of National Marketing Associations that aims for a better Asia through marketing.
Some of our products included a
Marketing Certification Program that will recognize you as a Certified Professional Marketer In Asia
Another product is the Asia Marketing Excellence Awards that give recognition to businesses that have achieved marketing excellence in the Asian region.
We will also be launching the first Awards ceremony for Asia's Outstanding Youth Women Netizen Marketeer Awards of the Year on March, 2018 in Singapore. So for those interested you can inquire from VMA for more details.
It is really fascinating what we are seeing in the world today
At this pt. ladies and gentlemen.
We are in for an unprecedented level of disruption .
People are talking about robotics, the impact of virtual reality, the impact of augmented reality,.. they are talking about intelligent systems, smart cities, 3D printing, e-commerce, internet of things, artificial intelligence, drones .. All of us have to be prepared to learn new things. All of us have to be prepared for ……
…..This Experience Economy. Opportunities are endless here in Asia.
The Asia Household Consumption in yr 2005 was 7 trillion US dollars and if we project this for yr2030, it will reach 33T dollars. And if you look at the US, Household Consumption also projected to yr.2030 , it will only be 18T and Europe will be only 16T. If you add both the US and Europe, it will just match that of Asia in yr. 2030. That is how important Asia is. This growth is driven by the middle income economy and the millenials.—just imagine that.
And the millennials who are now 16-36 years of age are 2.5 billion globally and China and India alone account for 880 million. This is equivalent to 35 % of total millenials in the world
And one of the challenges now is that the attention span of the GEN Z ( the post millennial group ) is only 8 seconds and is just comparable to the attention span of a gold fish which is 9 seconds.
Getting their attention is giving them that experience because based on KPMG research , 78% of the GenZ and the millennials would rather pay for an experience. So these groups of people have no qualms in spending for experience. They have no qualms in spending for your products as long as you give them the experience they need. And Technology is one of the key drivers to giving them these experiences .
Today, Asians are absolutely connected to everything.
Internet usage in SEA for example is between 50% to 80%….with Singapore at 81% and Malaysia at 68%
And in China, there is a mobile revolution, with 602 million smart phone users and 846 million WeChat monthly Average Users And considering that the I phone is only 10 years old, but within that 10 years, can you imagine what amazing technology we have seen!!.. Its truly amazing.. We are going to see a rapidly changing landscape today and technology will be a key driver. And we will be seeing this soon in the retail industry
Amazon Announces the "Amazon Go" Store: It uses facial recognition to process payments and the impact also is that there is a 92.3% chance that Retail Salespersons will be automated.
Amazon attached facial recognition devices in the shelves of supermarkets. So if you grab anything from the store shelves, it recognizes you and adds everything that you pick up. NO need to fall in line… you will just see your total purchases from your mobile phone and just receive a bill for it.
Everything is changing so rapidly
Jack Ma said, "E-Commerce is not a business model, it is a lifestyle. Imagination, Creativity, innovation and teamwork – these are things we should teach our kids. Today, probably, there could be a kid in Asia now that could be dreaming up a disruptive technology the world has not even thought off yet
Philip Kotler advises: "The most important thing Is to forecast where customers are moving and then be in front of them.. So again expect disruption So expect and prepare for disruption, be the disrupter, be agile enough to adjust to disruption.
Thank you and have a fruitfull day of learning , networking and great fun as well
Gwen Albarracin Message
President of Asia Marketing Federation (AMF)