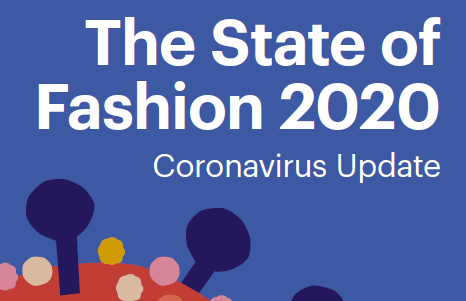 The State of Fashion 2020 Coronavirus Update
The Business of Fashion and the McKinsey community
It's Time to Rewire the Fashion System
Fashion executives and business leaders are currently focusing on crisis management and contingency planning, but eventually we must shift towards re-imagining our industry altogether. How will dramatic shifts in the global economy and consumer behaviour in the post-coronavirus world impact fashion and what can be done to rewire a fashion system that is no longer working?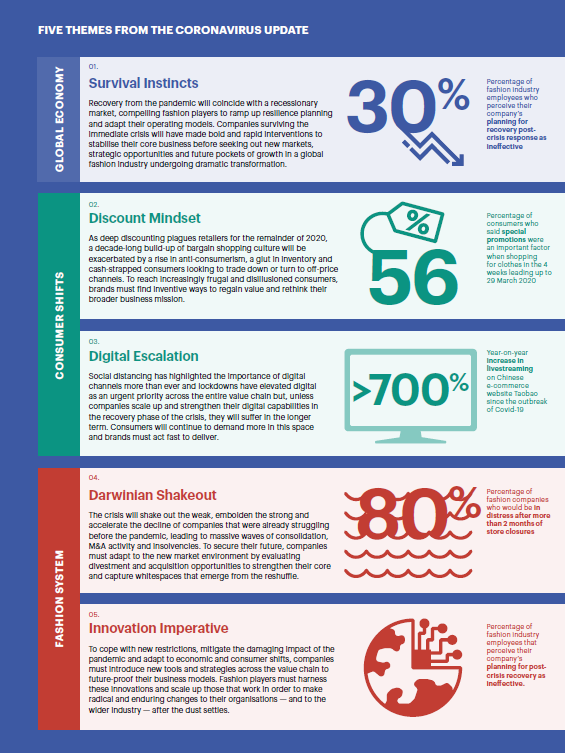 Click —-> to download the Report
The authors would like to thank all members of The Business of Fashion and the McKinsey community for their contribution to the research in this report. The wider BoF team has also played an instrumental role in creating this report — in particular Amanda Dargan, Anouk Vlahovic, Casey Hall, Christina Yao, Hannah Crump, Jael Fowakes, Kate Vartan, Lauren Sherman, Niamh Coombes, Nick Blunden, Olivia Howland, Queennie Yang, Sarah del Corral, Vikram Alexei Kansara and Zoe Suen. The authors would like to thank Kilian Graulich and Tiffany Wendler from McKinsey's Berlin and Stuttgart offices respectively for their critical roles in delivering this report. We also acknowledge the following McKinsey colleagues across the global teams for their support and contributions to this report: Laura Gallagher, Aimee Kim, Alex Sukharevsky, Althea Peng, Amelia Newland, Annika
Reinelt, Antonio Achille, Antonio Gonzalo, Clarisse Magnin, Colin Henry, Colleen Baum, Daniel Zipser, Danielle Bozarth, David Barrelet, Ellie Baker, Franck Laizet, Hanna Grabenhofer, Hannah Yankelevich, John Hooks, Karl-Hendrik Magnus, Miriam Lobis, Nadya Snezhakova, Raphael Buck, Ryan Shultz, Sajal Kohli, Sakina Mehenni, Stijn Kooij, Thomas Tochtermann, Ulric Jerome. We'd also like to thank Adriana Clemens for external relations and communications. In addition, the authors would like to thank Joanna Zawadzka for her creative input and direction into this State of Fashion report,
Anna Kövecses for the cover illustration and Getty Images for supplying imagery to bring the findings to life.
Source provider: Ms.Pham Hoa Lai