VIETNAM LOGISTICS FORUM 2018
HCMC, Thursday May 24 2018 8:30a.m. – 15.30p.m.
Logistics play a vital role in the overall supply chain process. 
The Logistics Forum 2018
 organized by Vietnam Supply Chain will address both contemporary and fundamental topics in logistics recently in Vietnam, including warehousing, distribution, transportation, urban logistics, last mile logistic, domestic and export logistics… for a better efficiency and effectiveness in supply chains. The Logistics Forum 2018 also introduces future trends from the perspective of logistics and technology in logistics, encouraging cross-company collaboration in SCM.
The Logistics Forum 2018
 has 03 shows and each show includes following activities for visitors: Exhibition, Workshop, Seminar, Networking Mixer, Panel Discussion. Visitors are recommended to register to join by show, at least 1 show per visitor. Show times are at your choice, as below:
Show 1: 08:30 – 11:00
Show 2: 11:00 – 13:30
Show 3: 
13:30 – 15:00
Why you should join The Logistics Forum 2018?      
Keep yourself well updated for most of the Hot Topics of Logistics Industry in Vietnam covering:
•       Urban Logistics 
•       Last Mile Logistics 
•       Logistics of a Specific Industry: Fashion & Lifestyle, Food, Ecommerce… 
•       Multi-modal Logistics 
•       Domestic & Export Logistics 
•       Waterway Logistics 
•       Cold Chain
Learn from Logistics Peers in Vietnam practically: 
•       Warehousing 
•       Distribution
•       Transportation
•       Technology
Network & Expand your logistics circles with 300+ logistics professionals, suppliers.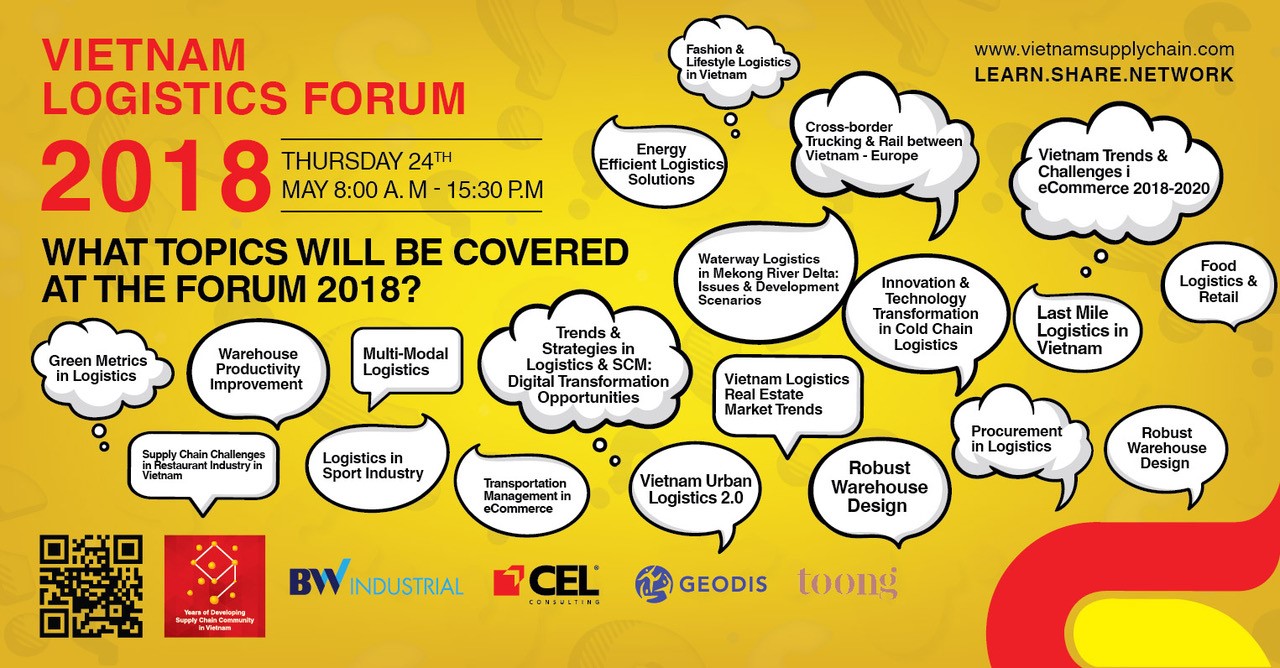 PROGRAMME
Vietnam Supply Chain reserves the rights to revise, updating the programme of Logistics Forum 2018 to suit the forum content and flow.

SPEAKERS  :

Benoit Brule, Managing Director, GEODIS Vietnam
| | |
| --- | --- |
| | Based in Hochiminh City since February 2011, Benoit is Managing Director of Geodis Vietnam, responsible for Sales and Marketing, Contract Logistics and Industrial Projects. Prior to moving to Vietnam, he has been holding various positions within the airfreight, freight forwarding and logistics industries including 3 years in Beijing and 4 years in Shanghai. More recently,Benoit has been leading the development of Geodis Wilson Vietnam integrated Logistics Solutions combining and simplifying logistics offers – from freight transportation and logistics services to land distribution, and even direct-to-store delivery with dedicated industry focus on fashion, lifestyle, consumer goods / retail and industrial. Under his direction, Geodis Wilson Vietnam was awarded the Best 3PL Award from Vietnam Supply Chain in 2011. Benoit Brule holds a master degree in Supply Chain Management from IPAG Business School, Paris . He is married and has two young children. |
Tommy Trung Ngo Quang, General Director, Emergent Cold Vietnam (previously as Swire Cold Storage Vietnam)
| | |
| --- | --- |
| | Mr. Trung graduated from Moscow University Of Social and Economics in the Soviet Union in 1995 and returned to Vietnam in 1997 to work for Unilever – Walls Vietnam as Distribution manager. Mr. Trung joined Swire Cold Storage Vietnam in 1998 as Warehouse Manager. He was made General Director in 2012. In addition to the management of all business activities of the Company, he is also responsible for Information Technology system, and participated in the design and development of the Company software. John Swire & Sons Ltd (Swire) and Emergent Cold announced they have signed a Sale and Purchase agreement to sell Swire Cold Storage Pty Ltd and Swire Cold Storage Vietnam to Emergent Cold. Both cold storage businesses have been sold as a going concern and all assets, including customer and employee contracts, warehouses and land will be transferred to the new ownership. The transaction completed on December 22, 2017. Further details of the transaction were not disclosed. Swire Cold Storage is a leading provider of cold chain logistics in Australia. The business operates a network of temperature-controlled facilities across Australia, with sites totalling in excess of 65 million cubic feet, or 275,000 pallet spaces of refrigerated storage utilising advanced integrated warehouse and transport technologies. |

Julien Brun, Managing Partner, CEL Consulting
| | |
| --- | --- |
| | Julien is the founder and Director of CEL Consulting, the first international Supply Chain and Operations consulting firm in Vietnam. He is now managing a team of consultants who is fully involved in providing their expertise to procurement, manufacturing and logistics related businesses in the region. MSc in mechanical and system engineering (Technology University of Troyes, Ecole Nationale des Arts et Metiers, Paris), he gathered experience and know-how at several positions in product/process optimization in aeronautics (Airbus, Cooper tool) and automotive industry (Peugeot Citroen, Rover group) in France, England and Holland. Julien has spent as well 2 years in Africa, where he coordinated logistics and food distribution for >100,000p refugee camps in Africa, for the account of WFP (World Food Program) and UNHCR (High Commissioner for Refugees). From his arrival in Vietnam in 2005, Julien immediately felt lined up with local dynamism and developed the firm intention to support actively the country's industrial development. Beside consulting work, he is now lecturer in Lean Management and SCM in for Executive MBA program of CFVG Ho Chi Minh city. Julien used to be the Vice President of French Chamber of Commerce Vietnam (Ho Chi Minh chapter) and now acts as Board Member at the CCIFV. |
Andrea Tretti, Senior Manager – Supply Chain, CEL Consulting
| | |
| --- | --- |
| | Andrea is supply chain senior manager at CEL consulting in Ho Chi Minh City, company specialized in providing consultancy, technology and training solutions in the field of Demand Management, Supply Chain and Logistics in emerging markets.  He received M.Eng. degree in Industrial engineering and management from the University of Padua, Italy, and the micromaster credential in Supply Chain Management from MIT. Winner of The Fresh Connection supply chain global competition in 2017. He worked in logistics operations and supply chain consulting and training for SMEs and multinational companies in Portugal and Brazil, before moving to Vietnam in 2017. |
Dr. Eckart Dutz, General Director, Pacific Partners
| | |
| --- | --- |
| | Eckart is General Director of Pacific Partners (VN), Ltd., a Sourcing Company specialized in Fast Moving Consumer Goods (Food and Nonfood). That includes export activities to Markets in the Pacific Islands as well as the import of Nonfood products (Sole agent for UBL China) to Vietnam. Most recently he has opened a Restaurant in Ho Chi Minh City (www.theloop.vn) . He came to Vietnam in 1995 and has worked from 1996 – 2004 for Unilever in Vietnam, Thailand, Netherlands, Germany in various Supply Chain positions. Most recently as Regional Supply Chain Manager for Ice Cream for South East Asia. Eckart received a PhD in Supply Chain Management from Mannheim University (Germany) and a Diploma in Business Administration as well as a Post Graduate Degree (Lic.rer.pol.) in International Economics. He is CoFounder of the Vietnam Supply Chain (www.vietnamsupplychain.com) and previously on the Boards of Advisors of the Vietnam Supply Chain Council as well as an Advisor to the Sourcing & Purchasing Club Vietnam. Furthermore he is Lecturer for the Executive MBA Programs of the RMIT and the Vietnam National University as well as Eastern International University in Binh Duong. |
Khiem Tran, Managing Director, Smartlog 
| | |
| --- | --- |
| | Khiem joined Smartlog since 2017 to partner with leading logistics companies in Vietnam for their smart logistics solutions. Smartlog is a start-up based company aims to transform Vietnam logistics industry through enable power of information technology. Prior to his stint at Smartlog, Khiem spent more than 10 year of experience in logistics operation with P&G, V.N.B.C., DongA Bank, DMSpro and Gemadept Logistics.  |
Dzung Phan, Country Manager, NinjaVan Vietnam
| | |
| --- | --- |
| | Dzung Phan is the Country Head of Ninja Van Vietnam and is responsible for all of Ninja Van business activities and operations. Before this role, Dzung was a management consultant in Monitor Group, Deloitte Consulting, and Roland Berger in Singapore, where he has experience across sectors such as transportation, telecommunication, and public sectors. Dzung graduated with a Master of Public Policy from the Lee Kuan Yew School of Public Policy. |
Hamza HARTI, Country Director, FM Logistic VIET NAM
| | |
| --- | --- |
| | After his graduation from Ecole Polytechnique and ENSAE and a first year in the financial markets industry, he decided to take the opportunity to join FM Logistic as a project manager in the Strategic Projects Departments. After 2 years, and strongly motivated by Team Management and Operations Management, he decided to be involved in Supply Chain Operations Management. |
Dr. Tuan Vu Anh, Director, Vietnamese-German Transport Research Centre (VGTRC)
| | |
| --- | --- |
| | Dr. Vu Anh Tuan is currently a Co-Director of Vietnamese-German Transport Research Centre (VGTRC) under the Vietnamese-German University (VGU). Dr. Tuan earned his Doctoral Degree and MSc. in the field of Transport Planning and Traffic Engineeringfrom the University of Tokyo, Japan. Prior to VGU, hewas aResearch Fellow at Institute of TransportPolicy Studies (ITPS) in Tokyo, Japan for three years. During the period, his research focused on transport problems and innovative policy solutions for Asian cities in the long term. Previously, he workedat Asian Development Bank Institute (Tokyo) as a Research Associate on a project namely ADB/ADBI's Flagship Study "Infrastructure for a Seamless Asia". Dr. Tuan was a former lecturer at Department of Civil Engineering, Hanoi University of Transport and Communicationsbefore going to Japan for graduate study. Tuan's research interest coversbroad fields, including transport planning methods, innovations, and transport policies in developing countries. He is actively participating in consulting services and as policy advisors for key infrastructure development projects in Vietnam, such as Accessibility Improvements for UMRT Line 1 (Ben Thanh – SuoiTien, Ho Chi Minh City, funded by JICA), HCMC Green Transport Development (funded by the World Bank), and Urban Road Traffic Congestion Program (funded by HCMC Department of Sciences and Technologies). |
Thanh Nguyen Trong, Manager of Transportation & Logistics, Adidas Sourcing
| | |
| --- | --- |
| | THANH is currently working as Manager Transport & Logistics in adidas Sourcing ltd. He graduated from Vietnam Maritime University and continued to deepen his knowledge of logistics with Msc in Maritime & transport management in ITMMA, Belgium (Institute of transport & maritime management Antwerp). The love for sport bring him to various Logistics positions in 2 Sport giant companies Decathlon & adidas during the past 5 years. In his free time, he watches football, goes swimming & plays ping-pong with friends. |
Thi Luong, CEO, ABA Cooltrans 
Taku Tanaka, CEO and Co-Founder, KAMEREO Corporation
Thomas Harris, Country Manager, DHL eCommerce
Clement Blanc, Country Manager, DHL Global Freight Forwarding
Song Huynh, Head of Transportation, Lazada E-Logistics (LeL) Vietnam 
David Elsner, Head of Solutions & Planning, Lazada E-Logistics (LeL) Vietnam
Luis Lavado, Physical Logistics Manager, NESTLE Vietnam
Thorsten Kipp, Director Contract Logistics/SCM, Schenker Vietnam Co., Ltd.
Greg Ohan, Deputy CEO, BW Industrial Development
Nam Nguyen, Operations Director, FM Logistic VIET NAM
Lan Nguyen Duc Quynh, VP Operations, Lazada Express Vietnam
Thinh Vu, Country Manager, Lazada Express Vietnam 
…
TOPICS               
Multi modal logistics in Vietnam
Cross Border Trucking and Rail between Vietnam and Europe
Issues and Development Scenarios for Waterway Logistics in Mekong River Delta
Logistics of Food and/or Retail
Vietnam Trends and Challenges in eCommerce 2018 – 2020
Transportation Management in eCommerce
Last Mile Logistics in Vietnam
Fashion & Lifestyle Logistics
Omni-Channel Logistics
Trends and Strategies in Logistics and SCM: Digital Transformation Opportunities
Supply Chain Challenges facing Restaurant industry in Vietnam
Innovation & Technology Transformation in Cold Chain Logistics
Panel: Cold Chain Implementation & Solutions for Vietnam
Logistics in Sport Industry
Panel: Last Mile Logistics in Vietnam
Warehouse Productivity Improvement
Logistics Real Estate Market Trends: North and South of Vietnam
…
Please be noted that Vietnam Supply Chain is a non-profit organization. This Logistics Forum is organized for the purpose of community building and developing together industry professionals. Limited seats. Please be mindful with your registration and be serious that you can really join. At Vietnam Supply Chain, we only work by emails and online collaboration. Do not contact us through calls please.
"It was professionally organized with high profile speakers who delivered insights of challenges and solutions of the supply chain in Vietnam! It was definitely interesting event where all participants could learn, share and network with senior expertise and leaders in supply chain. I also enjoyed creative activities and fun during the event too!"
Duc Nguyen, General Manager, Prism
"I have been been presenting at major business events for some 15 plus years in Vietnam and must say the organization, quality of venue and most importantly the relevance and content of materials and seniority and  experience of the participants was exceptional at the supply chain event. I would truly recommend."
Ralf Matthaes, Regional Managing Director, TNS
"As a sponsor and participant I commend the VSC for the success of this event. It was well organised, well presented, and most importantly, delivered a successful outcome. I think that you, in particular, did a great job in maintaining the energy and momentum of the occasion, and I think there are lots of reasons why Dematic will want to participate in next year's VSCC event."
Martyn Isbell, Vice President, Asia Pacific Logistic Systems, Dematic S.E.A. Pte Ltd
"The VSC Forum was very impressive from organizing, agenda, speakers, etc. It's really helpful for SC professionals."
Vo Thuy Doan Trang, Demand Planning Dept., Kinh Do Group
"It is truly a class event and I congratulate you for arranging such a good program."
Matthew Gardner, The Fresh Connection
"The event of the Year."
Adam Balarin, Vice President – Supply Chain, Unilever Vietnam