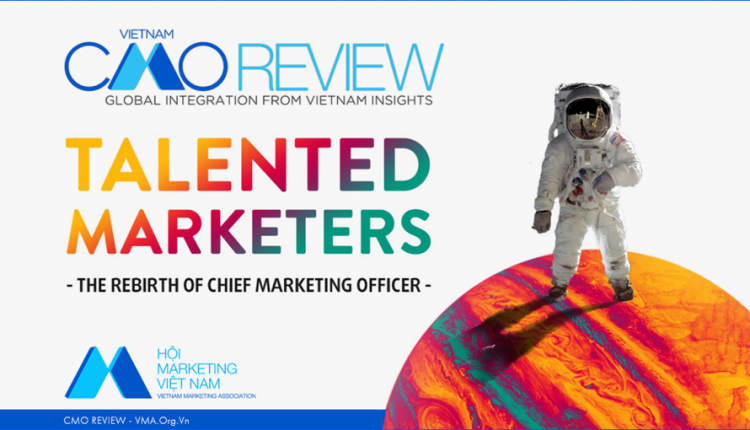 250 CMOs cho 3 lời khuyên (tips) để ứng phó trong COVID – 2020-2021
Forbes.com - 250 CMOs On Coronavirus: Marketers 'On The Front Line Of The Economy'
Hãy xem một vài kết quả nghiên cứu khi hỏi 250 CMOs về việc cho 3 lời khuyên (tips) để ứng phó trong bối cảnh nền kinh tế đi xuống và đồng thời ứng phó với đại dịch toàn cầu COVID-19.. Vài thông tin để chúng ta tham khảo và học hỏi xem các CMOs này đã và sẽ làm gì: tái cấu trúc, tìm ra cách thức làm việc mới, hay tập trung kết nối với khách hàng, etc.
Môt ngày mới vui vẻ và hiệu quả các anh chị và các bạn nhé!

There are two wars being fought right now.
One is a matter of lives: the battle that first responders, doctors, nurses, scientists and others are fighting to save lives. The other is a matter of livelihoods: the ability of our economy to produce and distribute the goods, services and funds that we all depend upon to eat, dress, and have a home.
This battle is secondary, and rightfully so. But it's not unimportant.
I recently asked 250 chief marketing officers and marketing leaders for their top three tips about growing in a down economy. In particular, about how they are reacting to Coronavirus or COVID-19. Almost without exception, they are ripping apart plans, restructuring departments, and figuring out new ways of working and connecting with customers. (Full disclosure: this was a research project for a client, Singular.)
And 73% of marketing leaders are actually increasing their marketing efforts.
But first, they're focused on empathy and service.
"A pandemic is not the time to sell, it's a time to serve," says Sara Varni, CMO at cloud communications platform giant Twilio. "Make sure your organization is providing tools and information that are of value in the moment."
This time is hard for everyone. So now more than ever it's time to be empathetic.
In addition, they're working hard to approach COVID-19 and Coronavirus with sensitivity. Nobody likes a brand that hijacks a crisis for its own benefit.
"The biggest marketing turn-offs these days include tone-deaf business-as-usual promotional messages as if nothing's going on," says Cynthia Gumbert, CMO of software development tool Smartbear. "On the other end of that spectrum are marketers trying to make everything about COVID-19 all the time."
With that as context, however, not one marketing leader said that now is the time to stop communicating or advertising. Quite the opposite. And they're doing so because while lives come first, livelihoods are also important.
"For so many people, life has become so unexpectedly hectic and frightening," says Jaime Punishill, CMO at Lionbridge, the translation service. "It's important right now that businesses keep going. Marketers are on the front line of the economy. It takes sales to pay vendors and employees, revenue to keep a business running."
Those employees earn salaries. That's rent money. Food on the table for families. While it can't take precedence over social distancing and flattening the curve(s) and health care priorities, it is important.
The 73% of marketers who are working harder now are placing their bets in different places:
28%: more advertising
18%: more content marketing
15%: focusing on organic growth
12%: more social media marketing
While more advertising might seem like a mistake in a down economy, Bob Benz of Advanced Telecom Services says it's like buying stocks when the market is down: counterintuitive, but smart. Why? Because advertising costs have dropped.
Facebook and Google advertising is 20% cheaper than it was pre-coronavirus and internet use is at an all-time high … you may never have this opportunity again.
But just because you're advertising more doesn't mean you keep doing the same things, says Tom Murray, CMO of the world's largest bedding provider, Tempur Sealy.
"People will continue to spend more time at home—on TV, on their phones, and on news and social media channels," Murray says. "As a result, in-person and live events will be different. So, just as what marketers say now is increasingly important, so too will be where we say it in order to best reach consumers."
Two thirds of marketing leaders also said that they were adjusting their offers, strategies, and tactics. That's essential, they say, because the world has changed. How we buy changed almost overnight. What we buy changed, too.
"Right now we're not just facing a down economy, we're facing a shift on how people become familiar with, purchase, and receive products and services," says Ian Kelly, VP of Operations at NuLeaf Naturals.
And yes, that includes the D-word: discounts.
"One way to help your client base is by offering remote consultations, discounts, and showing you are willing to go the extra mile," says Morgan Taylor, CMO of LetMeBank. "That is what your potential clients need, and what you can do to help them."
Of the 64% who are adjusting offers and tactics, only about one in five are offering discounts, however:
43%: changing focus, product, and/or marketing
21%: creating new offers and discounts
Just over half of the 250 marketing leaders also said they were focusing on client retention: keeping what they have. That includes extra service, extra communication, extra sensitivity, and a total commitment to quality.
"One of the best survival tips that you can ever have is to take care of and keep in touch with your clients," says Chad Hill, CMO of the legal firm Hill & Ponton.
And just under half, 45%, are using down time now to build for the future.
Yaniv Msjedi, CMO of Nextiva, is focusing on building long-term assets that will help accelerate sales when the world starts returning to "normal," or a new normal. Mike Hicks of Igloo Software agrees, saying he's "playing the long game" to protect renewals in order to eventually grow.
"Change your mindset to being about building relationships right now," says Matthew Seltzer of S2 Research. "People aren't buying, but they are still engaging with brands. They'll buy again in the future, so right now your marketing mindset needs to be about setting yourself up for success in that future."
Ultimately, we will get through this.
One of the paths forward, economically, is through creativity, says former Apple CEO John Sculley.
"Creative, bold ideas … enable marketers to find success despite economic burdens," says former Apple CEO John Sculley, now chairman of the board and CMO at pharmacy benefit manager RxAdvance. "Marketing professionals should continue to explore gaps where they can reach … audiences and acquire new customers."
Full reading click here —> Forbes.com