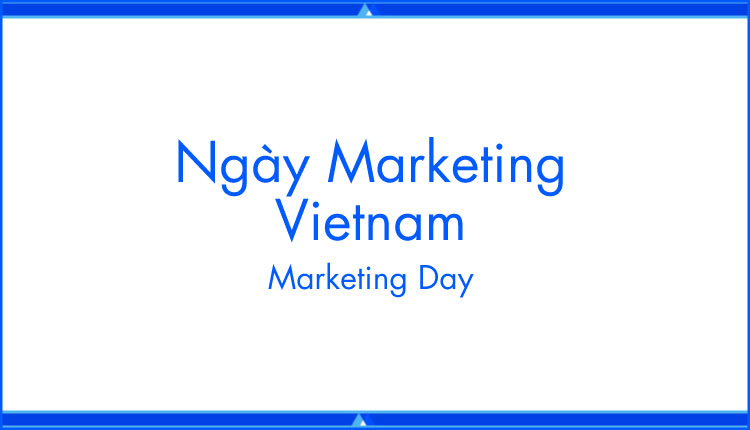 Chào các Bạn,
NGÀY MARKETING VIỆT NAM là Ngày Hội của Marketers Việt Nam, Ngày Hội của những ý tưởng, giải pháp, trí tuệ sáng tạo tiêu biểu, hiệu quả của cộng đồng doanh nghiệp Việt và Nhà Tiếp thị Việt.
NGÀY MARKETING VIỆT NAM cũng là dịp chúng ta cùng nhìn lại những sự kiện, khoảnh khắc lịch sử, những cột mốc, thành tựu đáng nhớ giúp tiếp thị hình ảnh Việt Nam ra thế giới.
Dự án đang được xây dựng, phát triển và xin hẹn gặp các Bạn trong thời gian sớm nhất.
Trân trọng !
HỘI MARKETING VIỆT NAM
VIETNAM MARKETING DAY is a day for Vietnamese marketer, and day for effective and innovative ideas, solutions, and creations of Vietnamese business community and Vietnamese marketers.  
VIETNAM MARKETING DAY is also a chance for us to be together to look back historical moments, events, highlights and memorable achievements which help to popularizing Vietnam's image to the world.
The project is being under development and will be soon launched. Respectfully, 
 
Nguồn hình ảnh và biểu tượng ngôi sao từ dự án Tiếp Thị Điểm Đến – Hành Trình Tiếp Thị Hình Ảnh Việt Nam,  Vietnam Heritages Photo Awards, Việt Nam Tươi Đẹp.